Tom's 1970 Harley Davidson Sportster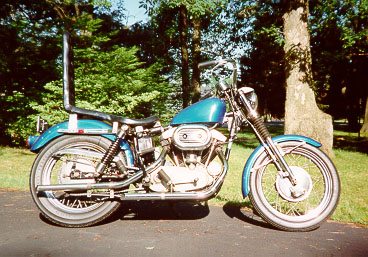 Welcome back to the 70's. This is my XLCH. I bought it in the Fall of 1970. This is a picture of how it looked for the first 25 years (1970 to 1995). Most of the bike was pretty much stock back then except for the custom seat and drag pipes. It even had the old Tillotson carburetor and Goodyear tires on it.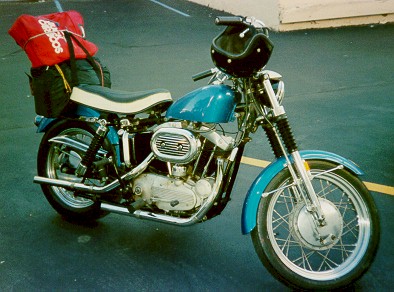 In the mid 1990's, I started taking longer trips (two up), so I took off the custom seat and installed the original. I also added the sissy bar so I would have a place to tie down my luggage. Soon after that, I added a National Cycle windshield. This picture was taken on a trip to the Pennsylvania Grand Canyon with the Yahoo Sportsters Group.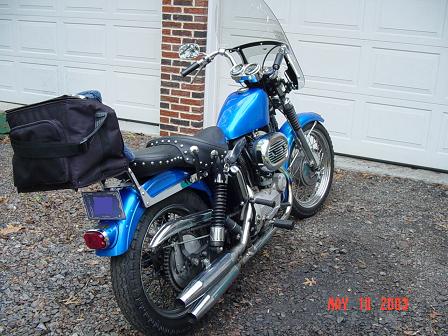 During 2002/2003 I made the most changes. I purchased a new Mustang touring seat, a National Cycle windshield, new quiet mufflers, and added a mini sissy bar luggage rack and bag. Some things that are harder to see are the new CV carburetor, the 22 tooth transmission sprocket, and Chen Shin tires. This picture was taken in May of 2003. The bike has about 18,000 miles on it and the paint is still original. At one time I was considering electric start, but the new CV carb made starting much easier. Future plans are for bigger gas tank and turn signals.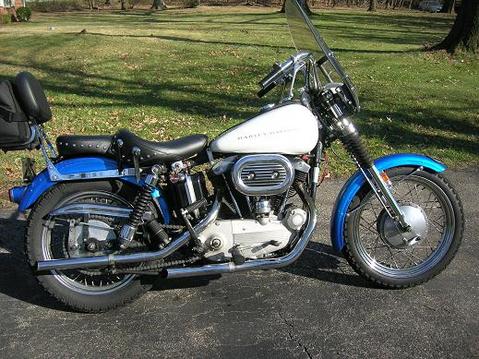 This is the latest picture taken in 2009. I got tired of always stopping at gas stations, so I installed a big 4.8 gallon tank with gas gauge. I also went back to the drag pipes with baffles.
Modifications So Far

| Component | Brand - Model |
| --- | --- |
| Air Cleaner Trim | Harley Davidson - Unknown |
| Carburetor | Keihin - CV |
| Carburetor Adapter | Mikuni - HS42/018-42 |
| Drag Pipes | Unknown |
| Drag Pipe Baffles (4") | MotoAsia (JCWhitney) - 013524 |
| Gas Tank | Harley Davidson 2001 Dyna Super Glide |
| Generator Trim | Harley Davidson - Unknown |
| Muffler - Front (Removed) | Harley Davidson - 65193-98A (International) |
| Muffler - Rear (Removed) | Harley Davidson - 65312-98A (International) |
| Oil Tank Trim | Harley Davidson - Unknown |
| Petcock | Custom Chrome - 12-727 |
| Seat | Mustang - 75484 |
| Sissy Bar - Back Rest | Custom Chrome - 09-686 |
| Sissy Bar - Back Rest - Pad | Harley Davidson - 52886-98A |
| Sissy Bar - Luggage Rack | Harley Davidson - Mini |
| Sissy Bar - Side Supports | Drag Specialty - Unknown |
| Tire - Front | Cheng Shin - 62-1265 - 3.25/85-19 |
| Tire - Rear | Cheng Shin - 62-1264 - 4.25/4.60-18 |
| Transmission Sprocket | Drag Specialty - 22 teeth |
| Trip Computer | Sigma Sport - BC800 |
| Windshield | National Cycle - N2220 |
Keihin CV Carburetor Jets and Specifications (updated May 23, 2010)

| Jet | Size |
| --- | --- |
| Accelerator | 70 |
| Main | 175 |
| Needle | N72A will be switching to N65C shortly |
| Pilot | 48 (up from a 45, still in testing mode.) |
| Model Number | W68ACK29 |
| Other #'s | -0620 |